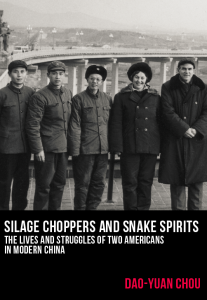 Silage Choppers and Snake Spirits follows the journey of two Americans who left the United States to experience first-hand the events of the Chinese revolution. Sid Engst came from a poor farming family in upstate New York and found himself on the run from Chiang Kai-shek's generals in the barren hills of northern China. Joan Hinton went from working on the Manhattan Project in Los Alamos to wearing disguises and ducking the Nationalist government in the Chinese communist underground. The two married and stayed in China to raise a family and help build a new society.
This biography follows their experiences working alongside ordinary Chinese people, from the Inner Mongolian steppe to a state commune in Beijing. Their lives and struggles offer an unsual insight into the events that make up modern Chinese history from Liberation to the Cultural Revolution.
Forward by Juliet de Lima-Sison
ISBN: 978-2-491182-02-1
Price: 12 USD/EUR
Currently in stock!
Audiobook
Download MOBI
Download EPUB