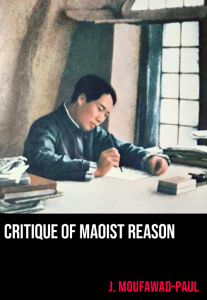 Utilizing the term "critique" in the philosophical sense implied by Kant, Sartre, Mbembe, and others, J. Moufawad-Paul offers an exacting analysis of the different trends that emerged out of the victory, development, and ultimate defeat of the Chinese revolution. Markedly and intentionally different from a polemic, Critique of Maoist Reason is a text for all who consider themselves "Maoists," as it clarifies and contextualizes various modes of thought within or associated with Maoism. Moufawad-Paul's latest contribution satisfies its intention to sharpen Maoist thinking through rigorous investigation.
"J. Moufawad-Paul's Critique of Maoist Reason is an important book which should be interesting and useful even for non-Maoist leftists. However, the study of this book is essential for Maoists, since it paints a comprehensive picture of the whole international Maoist movement and its different divisions and tendencies; this, and similar efforts that help clarify the situation, can and must contribute to the struggle for uniting the international Maoist movement. Although some of this book's issues warrant further discussion–which comes with anything new that is worth discussion–I recommend this book to all Maoists and non-Maoists." – Zia, Communist (Maoist) Party of Afghanistan
ISBN: 978-2-491182-11-3
Price: 7 USD/EUR
Currently in stock!
Download MOBI
Download EPUB
---
On the author

J. Moufawad-Paul lives in Toronto, Canada, working as contract faculty at York University. He is a supporter of the PCR-RCP. Since 2013, he has published many philosophical interventions on subjects such as organization, ideology, economism.

More information: https://en.wikipedia.org/wiki/J._Moufawad-Paul